Leverett History

History of Leverett
Leverett itself dates back to 1774, when it successfully petitioned the state for separation from Sunderland. It was named for John Leverett,an early governor of Massachusetts, who stood strongly against religious persecution and British rule. Today nine faith communities are active in Leverett.
The first century was an active industrial period. Factories, mills and shops along the Sawmill River in the northern section and Roaring Brook in the eastern section supplemented self-sufficient farms in producing the goods, tools and services needed in the area. General stores were found in each of the four community centers, with the Watson General Store in Moore's Corner the largest in the county.
By the turn of the century, the arrival of the railroad, electricity and the automobile, followed by World War I, changed life in Leverett. Jobs in cities, military service, ease of transportation made self-sufficiency unnecessary and impractical. The large homes increasingly housed an aging population.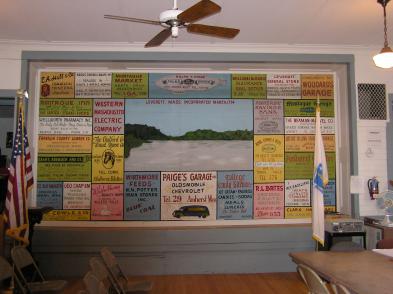 The end of World WarTown Hall - Second Floor Old Sign Collage II brought an influx of returning veterans, drawn to the area by the expanding University of Massachusetts as students and faculty, resulting in a population increase and dramatic changes for Leverett. Many large colonial houses were both available and affordable. Smaller, traditional homes were added, mostly in the southern part of town. A second influx soon followed, occurring in the northern part of town, when crafts persons, artists, neo-homesteaders and counter-culture groups found easily accessible rural areas appealing. Less visible, often highly individualistic homes reflected varying life styles.
The decade of the 1980's brought another distinct group of more affluent professionals, who used new energy-efficient building techniques to locate homes as large as the older homes but designed for modern, smaller families. Often secluded, they did not change the impression of a sparsely settled, traditional New England countryside.
Two events prevented the potential cultural and generational clashes of this growth period. One was the giant step in 1950 of replacing the nine one-room schools scattered around town with an unusually fine consolidated elementary school. The second event was the expansion of the telephone exchange, which had formerly divided the town, thus enabling communication to flow easily to all parts of the town.
Leverett today is a quietly busy town, entering the 21st century with an expansion of its elementary school, the construction of a safety complex to house its fire, police and highway departments and a new library, all centrally located. The professional level of volunteerism found in boards and committees in town government reflects the citizens' commitment and pride in their town of Leverett.
---