Historical Commission
Next 3 meetings:
Mon, Jun 13 at 5:30 PM -- https://us02web.zoom.us/j/86125147556
Mon, Jul 11 at 6:00 PM -- Historic Assets Yearly Review - meet in person 6pm at Leverett Crafts and Arts (outside)
Mon, Aug 8 at 7:00 PM -- TBD
Members
7 of 8 seats. 2 years each seat.
Edie Field, Honorary.
Susan Mareneck, Chair. 2022.
Ann Tweedy. 2022.
Eva Gibavic. 2022.
Anne Schuyler. 2024.
Sara Robinson. 2024.
Susan Lynton. 2024.
VACANT
Finding and Interpreting Leverett's Historic Industrial Sites in the Landscape
supported in part by the Leverett CPA fund
"Zoom to the Roaring Brook Industrial Corridor
Shutesbury Road, East Leverett"
A Virtual Exploration
Friday May 20, 2022 7-8:30 pm
Join the Leverett Historical Commission for a virtual visit to
the Roaring Brook Industrial Corridor
May 20, 2022, 7-8:30 pm.
Since this is an online event, registration through Eventbrite is required. Register at https://roaringbrook.eventbrite.com

We also invite you to a subsequent live, in person visit to the site on Saturday May 21st @ 2pm.

Beware of weather, uneven terrain, ticks, blackflies, Covid-19. Bring water if it is warm. If you are interested, please note so on your registration.

Part of the ongoing project, "A Sense of Where You Are, Finding and Interpreting Mill Foundations in the Landscape", this event is funded in part by the Leverett Community Preservation Act Fund.
A video of the October zoom visit
to the Slarrow Sawmill on North Leverett Road
can be viewed at
Enjoy!
For information, email leveretthistoryinfo@gmail.com
See you online!
Leverett Historical Commission

_______________________________________________________________
---
Volunteers cleared Leverett's historic town pound landmark this summer!
Link to a Youtube 3D video is: https://youtu.be/5hDRPg21gO0
---
---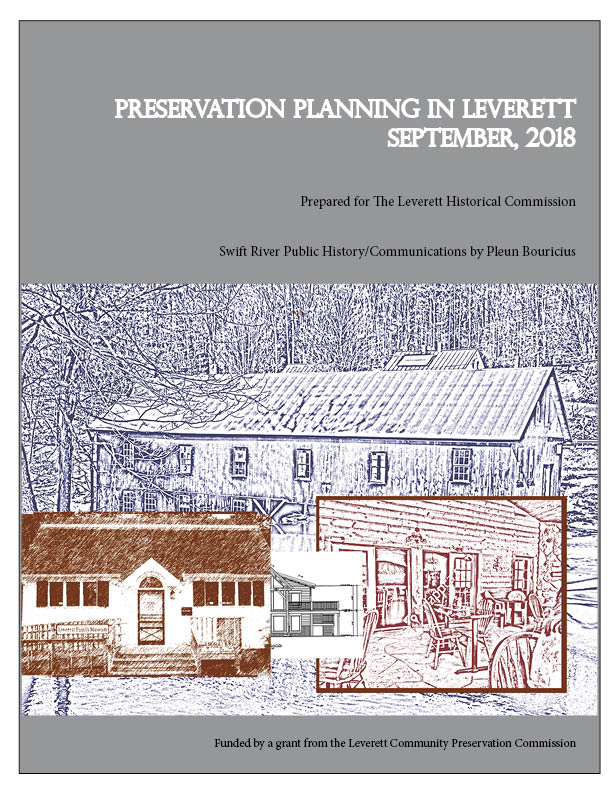 Read the report on findings from the 2017-18 Historical Assets Survey -
https://leverett.ma.us/files/Leverett_HAS_Final_Report_--_corrected_version_1.pdf
---
Charcoal Kiln (coke kilns)
Read a report about the Leverett Family Museum
The Historical Commission, with grants from Mass Humanities (Research Inventory Grant), Community Preservation Commisstion, and Boston Public Library, is proud to release the first of many volumes of records from the Town of Leverett vault. Please feel free to browse.
Previous meetings:
Historical Commission Meetings